Customer Reviews
01/01/2020
Zainab A.
United States
I recommend this product
Love It
I bought this dress to wear at my Nikkah! It fit perfectly and was comfortable!
12/23/2019
Marie G.
United States
I recommend this product
Stunning
Bought this for my Nikkah. The material is really good and the dress is so modest and flattering I absolutely love it.
12/17/2019
Ola S.
United States
I recommend this product
Beautiful!
I wore this for an anniversary date, and it was gorgeous and romantic. The weight is perfect and it falls in a flattering way. I imagine it would be perfect on many body types. Also, its gorgeous as a more formal or dressed up look but you can dress it down with a jean jacket and it looks amazing too!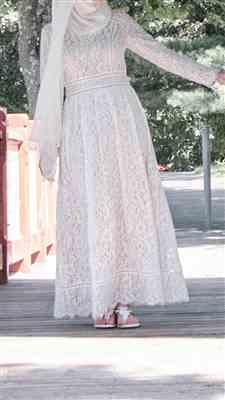 10/03/2019
UrbanModesty.com
The Zahra Lace looks wonderful on you!
09/13/2019
Anonymous
United States
I recommend this product
Romantic and perfect for and
Romantic and perfect for and silhouette. I felt like a princess
09/01/2019
Anonymous
United States
I recommend this product
Elegant dress
Gorgeous elegant dress. Would highly recommend.
07/15/2019
Linda
United States
Beautiful!!
Dress is beautiful, design is perfect, flowy and looks exactly like the picture. I would recommend it.
Unique and elegant
Perfect dress for occasions. This dress is how i found out about urban modesty :) I saw a lady wearing it to this previous Eid Al Fitr prayer and she literally stood out. I had to go ask her where she got it from and she gave me the website name. I ordered it soon after and don't regret it. It is a bit pricey for me but I wore it for my sister's engagement party and it fit great.
Sold out but now its here
It sold out a few times fast. Now it's available and I love it.
06/05/2018
AQ
Alia Q.
Zahra Lace Long Sleeve Evening Gown
Beautiful dress! It was just as pictured and the lace work was gorgeous. The sizing was perfect and it fit very well. It wasn't too long, neither was it tight. The fit was very modest yet very flattering as well :)) I would 100% recommend!
Zahra Lace Evening Gown
I had purchased this dress for my engagement dinner- it was perfect! I got the shipment in time. The dress fit true to its size. I didn't have to worry about finding what to wear on top or underneath for it was long sleeves and had an underlay. This dress is beautiful I recommend everyone to buy it. It is perfect for any occasion!
Better than I could have hoped!
My dress just came in the mail and I was so excited to try it on! It fits perfectly and I absolutely love it! I'm 5'8" and I ordered a small and it fits better than I expected, it's not too short and it looks just like it does in the picture. The quality is very nice, it's not too thin but not too thick either. It will be perfect for my nikah in August inshaAllah
LOVED IT
was absolutely beautiful, good quality and perfect length.
Join The Urban Modesty Sisterhood